Uschebti e.V.
Friends of Egyptology at the university of Cologne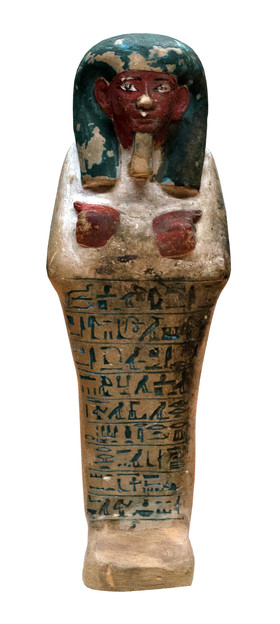 Uschebti e.V. supports the activities of the department of Egyptology and fosters the exchange between society and the academic world. The Friends of Egyptology organises visits to museums and public lectures on ancient Egypt. It supports research and teaching as well as the maintenance of the collection of the department. Members pay an annual fee. It is also possible to make individual donations to support the activities of Uschebti.
The word Uschebti (in English: ushebti or shabti) is ancient Egyptian and means "somebody who replies". The ancient Egyptians used it for small figurines, which were buried together with the deceased. The ushebti figurine was inscribed with a spell, which it was meant to recite, when the deceased was asked to carry out labour in the netherworld. The figurine depicted here, kept in the collection of the department, is the ushebti of Djehutihotep who was a priest of the god Amun. The inscription says:
Oh you ushebti, when Djehutihotep is asked to carry out the labour, which has to be done in the netherworld, like a man called to duty, in order to cultivate the fields and to water the riverbank, in order to cross the sand of the East and of the West, then you shall reply: I am here.
As an ushebti supports its master in the netherworld, so the Friends of Egyptology support the activities of the department of Egyptology.